Introduction
The secret to a great facial skin and fresh looks does not always lie in spending lots of money and time at your local beauty spa. Instead, it is very close, right in your kitchen. There are a plethora of ingredients in your kitchen you can use for quality homemade face masks. Most of these ingredients are the ones you typically have on your kitchen counters or in your fridge, and which, more importantly, do not break your budget.
An abundance of recipes
Now, since there are so many recipes out there, the key is choosing the ones most appropriate for your skin type. If you are unsure as to which face mask recipe you should use, stay with us, as we will go through a number of them, depending on the skin type.
Oily skin
If you have an oily skin, you probably know all too well how annoying it can be to have an excessively shiny face. Not only are these excess oils responsible for giving that overly shiny look, but they can also clog your skin pores and cause all kinds of skin issues. The most effective face mask recipes for oily skin include honey, egg white, yeast powder, and lemon juice.
Dry skin
Whereas some people suffer from overly oily skin, others suffer from dry skin. In this case, a face mask can act as a very effective moisturizer, with which you can restore your skin's necessary oil levels. Some of the most commonly used ingredients for dry skin face masks include milk, egg yolk, oil, and honey. In fact, you can use all of these ingredients, form a paste and use it as a facial mask. Some more unusual recipes may also include chocolate or cocoa, which are also proven for treating skin dryness.
Zits, Acne, Pimples
If you are suffering from these problems, you have probably tried out a plethora of over-the-counter products, with little or no effect at all. However, it is also highly likely that you haven't tried using homemade masks for this purpose. For example, you can use the recipes that contain nutmeg, honey, lemon juice, and cinnamon. Since acne and pimple outbursts are typically caused by excessive oils, clogged pores, and trapped dirt, with a mask containing these ingredients, you can effectively unclog your facial pores and remove all the dirt particles.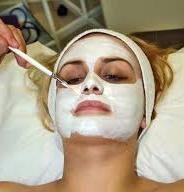 Also, you can also rely on using a mixture of water and baking soda as well. This very simple, cheap and effective solution is proven highly effective at battling the occurrence of zits. Last, but not least, you will also need a solution for any redness and scarring caused by acne too. For that matter, you can use a mixture of egg yolk and carrots, both of which are rich in vitamin A, which is essential for facial skin health.
Large pores
Even though large pores do not represent a big problem on their own, they can lead to larger skin problem. Also, some people just don't like the look of large pores on their face. The most popular face mask mixtures for large pores include the ingredients such as oatmeal and milk. While the oatmeal is great when it comes to tightening the skin pores, milk is exceptional when it comes to restoring the skin's natural elasticity level.