One thing is for sure about our lives these days; we are so busy we never seem to have enough time. Luckily there are modern conveniences that can save us time, even on the dullest tasks we must perform every day. One of these conveniences is an airbrush makeup kit or system. FAQ
Best tips
DO THE AIRBRUSH MAKEUP KITS WORK?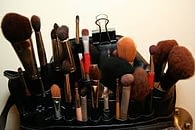 Yes, absolutely. There are several brands that have been around for more than twenty-five years. Airbrush makeup Kits have been used by professionals and Hollywood makeup artists for years. They are available for home use, why not use a better product?
WHAT IS THE ADVANTAGE?
Makeup that is airbrushed on can be put on in a much thinner and more even amount or layer than makeup applied by messy brushes or sponges. The makeup is mixed with a little bit of water; then air is used to apply the makeup very evenly.
WHAT ARE MY BENEFITS?
Makeup applied by airbrush can make your face look flawless. The results are much better than manual methods. You can cover trouble spots much better and faster with an airbrush kit. The application can cover dark or uneven spots, bruises, acne or acne scars, even birthmarks or tattoos.
IS IT EXPENSIVE?
Some cheaper kits can cost $50 to $150. The main difference is in the quality of the compressor and the rest of the equipment. Also, some kits come with ten or more colors, which allows you to match your skin tone for great results. The best kits are the ones professional make-up artists have been using for years, have dropped in price to around $200-$250. These kits will last many years, and you can save money daily by using much less makeup on your face.
IS IT WORTH IT TO PAY MORE?
You can get a hundred dollar kit, and live with fewer colors to match your skin tone. You would have to expect to replace it in a year or two. You can get a better system now, and get more colors and not have to worry about the compressor or equipment breaking down in a year or so.
IS IT HARD TO USE?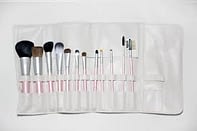 No, it's pretty easy to get the hang of it. I got a airbrush makeup Kit, and after watching the DVD and practicing for a week, I was able to do my daily routine in half the time it used to take me. I take me under five minutes to finish, and clean up is easier and a lot less messy than when I used brushes.