The Remington S9500 flat iron is designed for salon and home use. Read the remington s9500 review to find out more. It has been tailored for beginners as well as those who wish to use an advanced iron to tackle the curliest, coarsest hair.
Top Features of Remington S9500 flat iron
Some ceramic plates that are infused with both ions and pearls
This makes the iron produce wet hear that is good for styling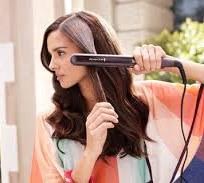 hair. The plates do not radiate any funny smell as is the case with several other models of flat irons. The pearls make the ceramic plates super smooth and efficient because it produces near zero snags with silky-smooth results.
The plates are only one inch wide, and this makes the whole iron lighter and sleeker. The pearls also increase the durability of the Remington S9500 flat iron.
The heating element
This is another top feature of the Remington S9500 flat iron. It is very easy to adjust the heat using precise digital controls with a temperature lock to that it stays consistent once set at the desired temperature.
The Remington S9500 also heats up very fast; in less than 15 seconds making it the fastest flat iron in the market. Although the iron can heat up to 450 degrees Fahrenheit, it does not cause any damage to the hair, and the handle remains super cool all the while.
The Remington S9500 flat iron has a long swivel cord
The long cord allows you to more maneuverability as you work on hair. Also, the cord has been designed to move at 360 degrees making it tangle free, and this adds to the efficiency of the Remington S9500 flat iron when in use.
The Remington S9500 flat iron has a sleek, ergonomic and non-slip grip
It is designed to be light when held in the hand and it also offers a good grip. It also grips the hair firmly to glide through it with a few, light yet efficient strokes.
All the buttons are located in an area where it is easy to adjust the temperature lock it as your style. The design has also reduced any chances of pressing the buttons by accident as you style hair.
An automatic shutoff safety option
This qualifies as a top feature of the Remington S9500 flat iron. This safety mechanism ensures that the iron shuts off after one hour. Since one takes approximately 15 minutes at most to style coarse, curly hair, the safety feature accommodates beginners while also ensuring the safety of all.