Belly button piercing can be described as a piercing that is done and located in or around the belly button. This kind of piercing is famous in most teenagers especially girls and young women. Though beauty encompasses this kind of piercing, if not properly handled, however, complications can occur leaving the person scarred and infected. Though this is rare, quite a number of such kind of cases have been reported.
To be on the safe side, proper research should be done prior to piercing to avoid infections and scarring arising from allergies or the use of unqualified tools to do the piercing or hiring inexperienced piercers.
Does belly button piercing impact your beauty?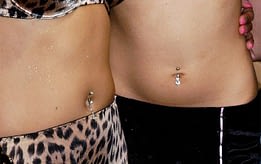 Definitely. Piercing your belly button can enhance the natural beauty of your body making you more confident and sexy when you wear a bikini or a short navel-revealing top. This is because of the different types of attractive jewels anyone can wear after the piercing. Though this is true for most people, people who have undergone painful experiences after the piercing such as swelling, scarring or worse infections can be unhappy with their navels. Instead of revealing and flaunting their navels, they end up hiding their belly buttons – a reason why getting a professional piercer and doing your homework before getting one is important.
Does the shape of your navel impact the choice of jewelry?
Of course. Our bodies are unique same as our navels. What someone else could wear in terms of jewelry after the piercing could be different from what you can wear after the piercing. If a person's navel is not an 'outey' but an 'innie' type, they can have a wide range of jewelry to choose from depending on their preference. However, a classic 'outey' can be easy to pierce and can look good too.
Teenagers below the age of 16 should not pierce their belly buttons because growing can shift or misalign the piercing.
Should you take any precautions before and after piercing your belly button?
A lot of caution should be taken when piercing your belly button. Make sure that you get professional advice and should be done by a trained piercer to avoid complications. Doing the right things such as not wearing tight clothes, avoiding swimming, not introducing jewelry before healing, and following the recommended after-care procedures is very important to avoid infections and other minor complications.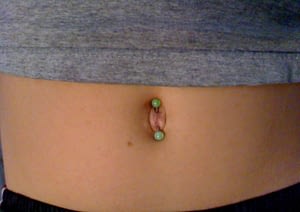 Going for untrained piercers, piercing yourself, and using the wrong tools can be the beginning of your endless wrangles with infections, diseases such as HIV and other complications such as scarring. However, if you do it correctly, why not flaunt your belly button with the latest piece of jewelry?